Opside Pre-alpha Incentive Testnet Goes Live with Public zkEVM and PoW ZKP Mining
Hong Kong, 6th June 2023, ZEX PR WIRE, We are thrilled to announce the official launch of Opside's first Public zkEVM Chain. This milestone marks an exciting moment for Solidity developers worldwide, who can now actively deploy and interact with relevant contracts on the chain. Alongside this, the much-anticipated feature, PoW ZKP Mining, has also been activated. This unique feature empowers miners to contribute computational power, generate ZK proofs for ZK-Rollup, and earn corresponding points rewards!
Since its launch on May 24, 2023, the Opside Testnet has shown significant momentum. To date, the pre-alpha testnet has successfully processed an impressive 2,038,968 transactions, fostering a dynamic community of 45,236 unique users. The stability and security of the network are maintained by an extensive network of 1,713 nodes, working in unison to provide a reliable, secure platform for users.

Public zkEVM Chain
The newly launched ZK-Rollup will function as Opside's official Public zkEVM chain, providing an open and accessible platform for all developers. This innovative chain is built upon Polygon's open-source zkEVM framework, introducing improved programmability and user experience. The advent of this Public ZK-Rollup opens a world of possibilities for solidity developers worldwide who can now deploy on the platform, experiencing first-hand the transformative benefits of ZK-Rollup's groundbreaking technology.
Custom zkEVM Chain
The Opside ecosystem is rapidly expanding, already boasting the involvement of over 25 high-quality projects. Some of these projects, particularly those with high throughput requirements, will have their own ZK-Rollup chains. This feature allows them to deploy their applications and fully utilize chain resources, thereby optimizing their operations. Developers or project teams meeting the necessary criteria can conveniently generate ZK-Rollup chains, browsers, bridges, and other essential settings via the ZK-Rollup Launchpad. As part of its comprehensive service offering, the Opside network will provide the data availability layer and computational power, amongst other foundational features.
A key aspect of Opside's model is that the sovereignty of the ZK-Rollup chain will wholly belong to the project teams. They have the freedom to set the gas fee token, gas price, and select the zkEVM SDK (including Polygon zkEVM, Scroll, zkSync, etc.) that best aligns with their project requirements. Presently, most dApps are in the active deployment phase, and many more projects are engaging in discussions with Opside to join the platform. We are optimistic about the emergence of a vibrant and diverse ZK-Rollup ecosystem in the near future.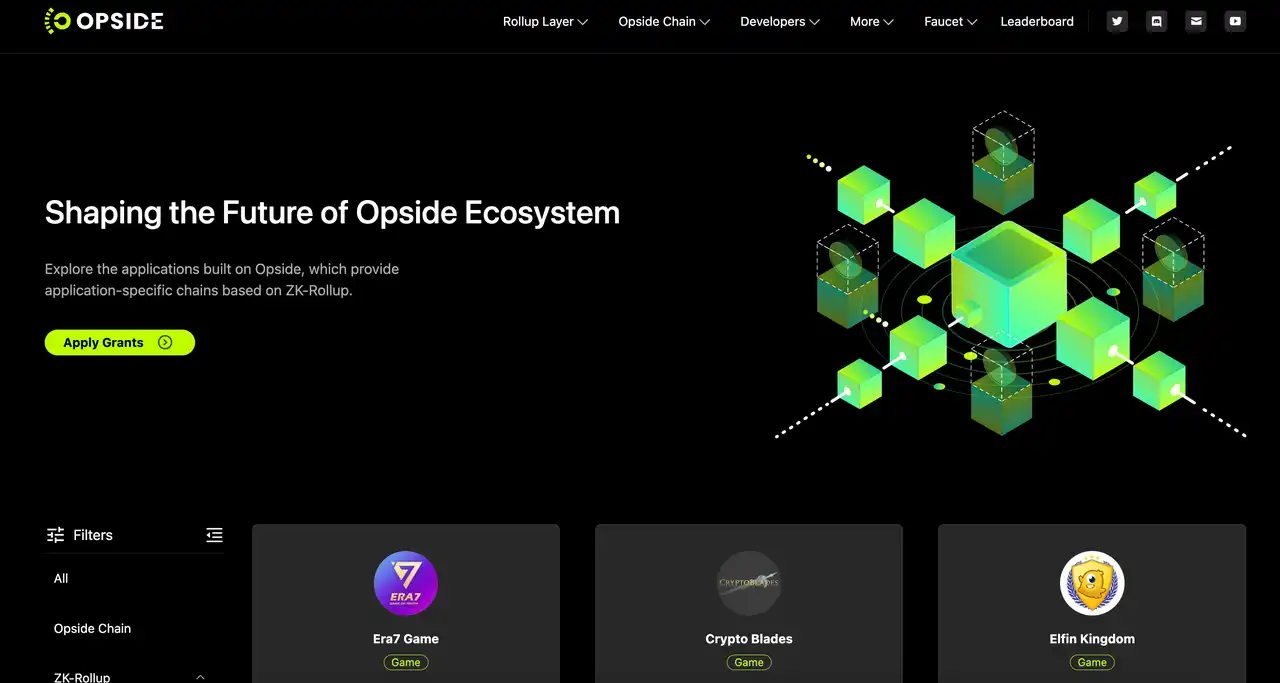 PoW mining
Parallel to the launch of the Public ZK-Rollup, Opside has introduced PoW mining incentives. PoW miners, serving as an integral part of the ecosystem, can contribute computational power, generate ZK proofs for each ZK-Rollup, and in return, receive loyalty points rewards. Notably, major miners such as Ingonyama and Bitmain have committed to participating in the pre-alpha testnet, demonstrating their support for Opside's network development.
The PoW whitelist application window has now closed, having received a substantial 2,201 miner applications from 52 countries in less than a month. In a bid to foster an inclusive community, Opside has lowered the entry barrier for miners, encouraging a greater number of participants to contribute to the Opside network. Additionally, Opside has future plans to launch the GPU version of ZKP Mining around the end of July, inviting all interested parties to participate.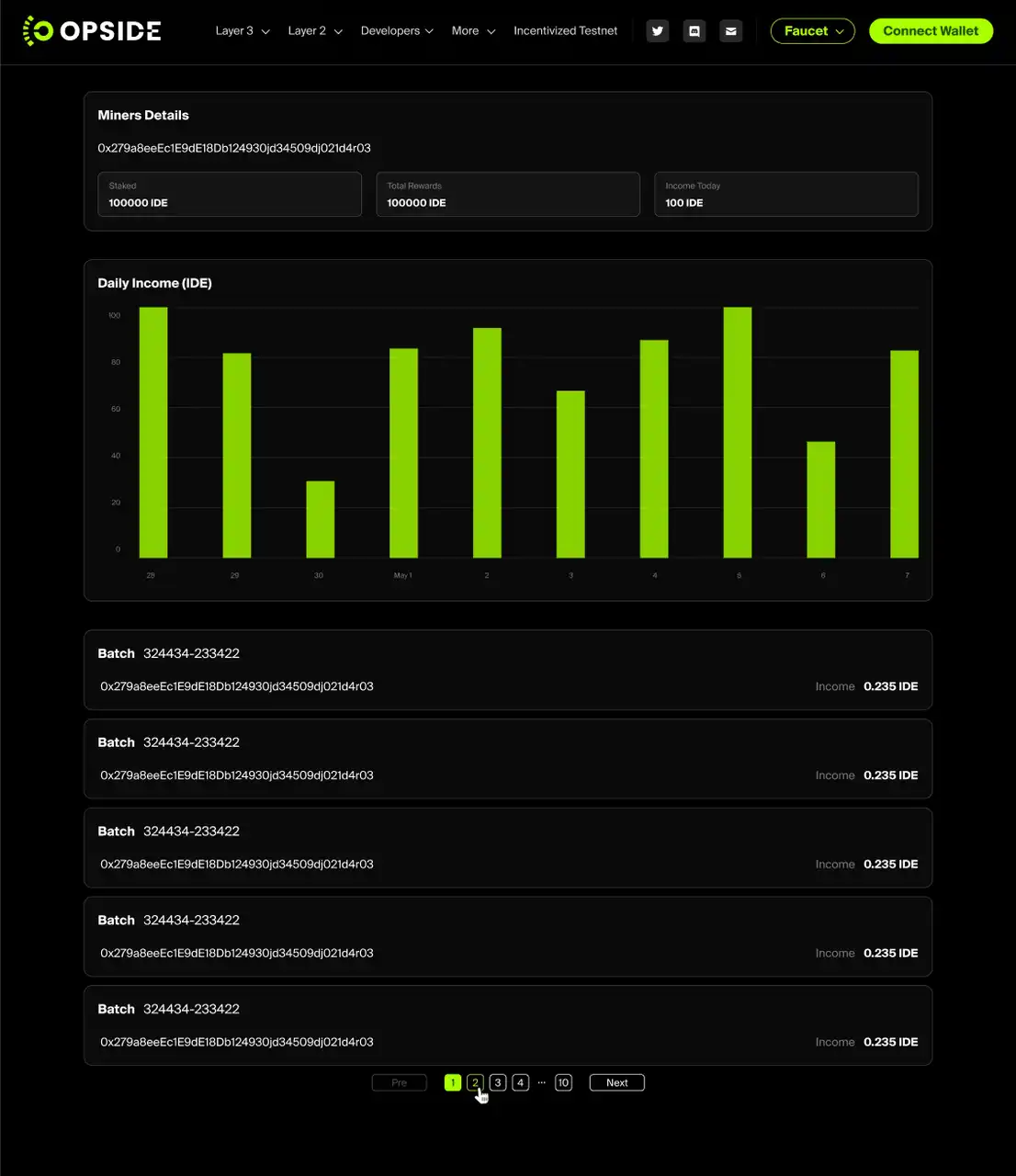 ZK-Rollup as a Service
The initiation of the Public zkEVM and PoW ZKP Mining indeed marks another significant milestone for Opside.
The Public zkEVM represents the initial phase towards the comprehensive functionality of ZK-RaaS (ZK-Rollup as a Service). We warmly welcome developers and projects to deploy on this Public ZK-Rollup chain and aid in evaluating its stability and performance.

On the other hand, the launch of PoW ZKP Mining represents a significant step towards enhancing the security and performance of the Opside network. By harnessing the computational power provided by miners, Opside can generate ZKP for ZK-Rollups, ensuring the stability and integrity of the network while simultaneously enabling a more decentralized and robust ecosystem.
This milestone is not just another step in Opside's roadmap, but it also serves as a testament to the potential of this revolutionary platform. As Opside continues to innovate and deliver on its commitments, it is paving the way for a future where ZK technology is more secure, efficient, and accessible to all. As Opside moves forward, the successful launch of Public zkEVM and PoW ZKP Mining showcases the project's potential and momentum. It is a clear signal that Opside is not only poised for success but is also shaping the future of the ZK ecosystem.
Disclaimer: The views, suggestions, and opinions expressed here are the sole responsibility of the experts. No Money Virtuo journalist was involved in the writing and production of this article.